An entry-level set with selected pieces at an accessible price for Irokumi beginners.
11 types. Each set has 6 to 8 pieces. ¥1,500- (tax excluded)
Product name and picture describes what can be made and the transparent package shows the contained pieces.
This is an easy approach for beginners to create objects, and by freeing your imagination these objects can turn into many things.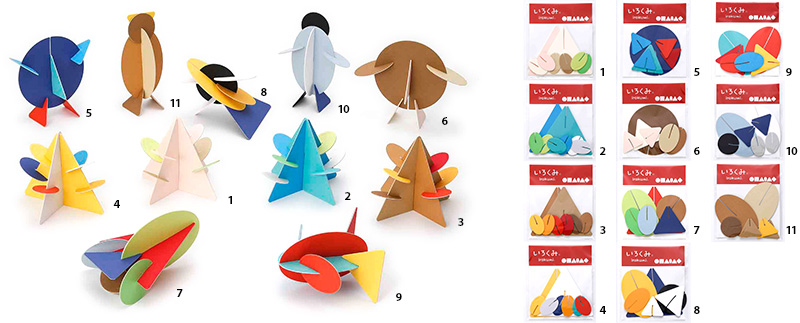 A perfect set for your first Irokumi creative experience with a work book for Kids enclosed.
Colors and shapes have been selected for this gift set, enabling specific characters to be created.     
2 sets are available:
Piccolo Set 1 – selection from Hikari and Mizu series
Piccolo Set 2 – selection from Mizu and Daichi series
Hikari means light, Mizu means aqua, Daichi means terra
Shapes have been assorted in order to create the characters matching the colors.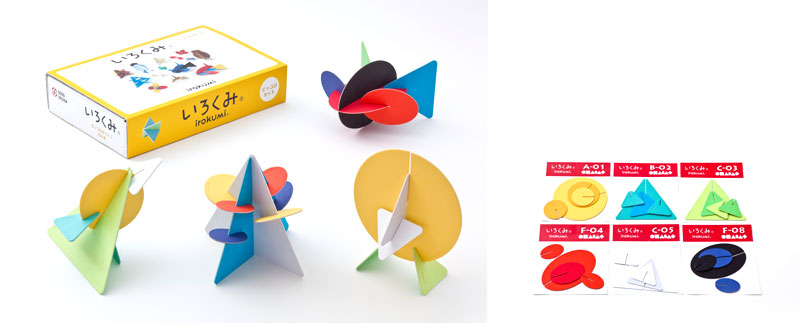 24 pieces & work book: ¥2,800 (tax excluded)
6 colors selected from Hikari and Mizu series
Vivid colors with black & white accent will allow you to create strong and vibrant animals.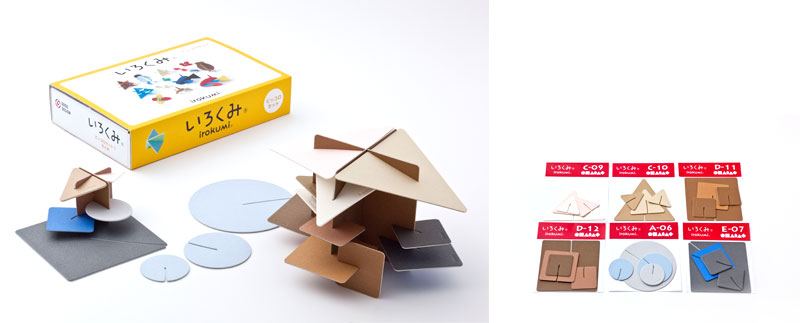 24 pieces & work book: ¥2,800 (tax excluded)
6 colors selected from Mizu and Daichi series
Chic colors mainly composed by triangle and square pieces suitable for creating architecture.
Colors have different gradation of lightness. Each piece might be low-keyed, but once assembled, they will transform into mature sophisticated Irokumi objects.

48 pieces & work book : ¥4,700 (tax excluded)
The best value set contains all pieces of Piccolo Set 1 & 2
Suitable from 3 to 12 years old. A gift box set with selected colors and shapes designed to develop color combination and object making abilities just by playing with it.
Comes with an illustrated workbook.
Once the children go through making all the objects in the workbook, they will start creating their own work. Asking simple questions such as "what have you made?" will trigger their imagination to flow out.

Series Sets will allow you to explore the combination of various colors and shapes with an explanatory booklet for Adults enclosed.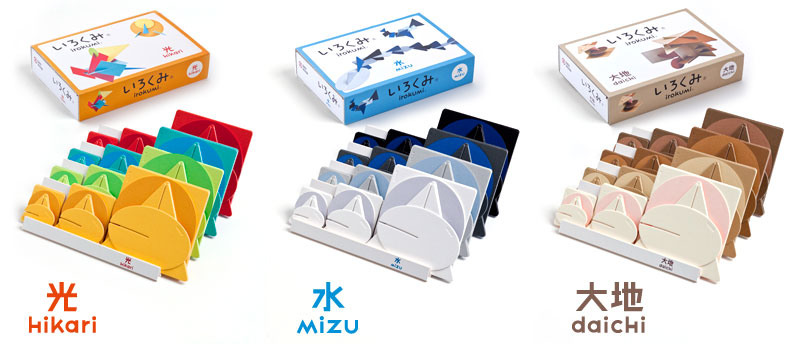 Each set containing 72 pieces & booklet ¥8,900 (tax excluded)
Composition = 6 shapes x 3 sizes (1 for each L, M, S size) x 4 colors (8 colors including the reverse side).
Full set of shapes and sizes are available for each color, which allows the creator to freely explore the world of object making. A full scale modeling tool for grown-ups (all ages).
Hikari - theme colors born from ray of light
Irokumi in primary colors – yellow, green, blue and red – born from ray of light. Vivid joyful objects in various colors such as tropical fish, colorful houses or cars and airplanes can be created.
Mizu - theme colors born from aqua
Irokumi in gradation - white, gray, black and blue. Modern architects, ships and spacecrafts can be created. Or cool and scary looking creatures can be brought to life!
Daichi - theme colors born from terra.
Irokumi in food colors. Mouth watering objects in delicious colors such as gingerbread houses, animals, and cars etc., can be created.

Best value set from the all 3 series (Hikari+Mizu+Diachi).
114 pieces & booklet ¥5,900 (tax excluded)
This best value set contains all of the small-sized pieces from the 3 Series.
There are 2 of each piece, and you will get all of the colors and shapes of Irokumi in one box.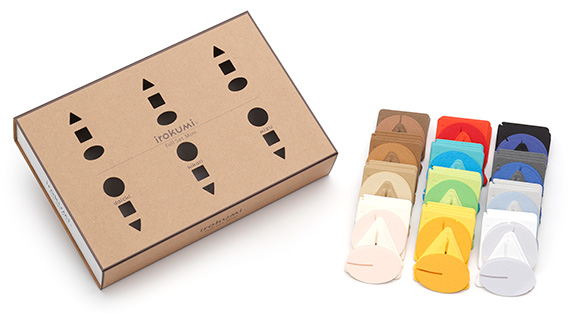 A full set of 3 series (Hikari+Mizu+Diachi).
216 pieces ¥25,000 (tax excluded) Sold directly from Studio Pi-Pa.
This set provides the colors and shapes in volume to deliver the full potential of Irokumi. This set is suitable for workshops or classrooms where you can use different Series to create the same object and hold discussions about the differences brought by the colors, or encourage communication inside groups using all pieces to create large group works.

Resellers outside of Japan:
Hammer Museum shop
10899 Wilshire Blvd, Los Angeles, CA 90024 USA
310.443.7080
Toothpicknations / Netstore (London, UK)
http://www.toothpicnations.co.uk/play/make/irokumi-colour-card-set.html

Contact
STUDIO PIPA Co.,LTD
104 1-6-3 Nakakaigan chigasaki KANAGAWA JAPAN
info@irokumi.jp
Tel & Fax +81 467 86 7507
Irokumi is a registrated trademark of STUDIO PIPA.
Utility model registration No. 3158723

Visit also irokumi Facebook page (in Japanese only)
http://www.facebook.com/Irokumi